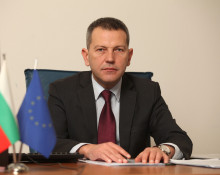 Heavy traffic for passenger and freight road carriers at some intra-EU border crossing points impedes cross-border traffic between Bulgaria and Romania. This is what a letter sent by the Minister of Transport, Information Technology and Communications Georgi Todorov to the European Commissioner for Transport Adina Vălean reads.
The Minister pointed out that he highly appreciated the efforts to implement the Green Lanes concept, but the Bulgarian buses and trucks were in a worrying situation due to the formation of kilometer-long queues at Vidin-Calafat border crossing point. Minister Todorov also noted that coordination at EU level was essential in overcoming the challenges related to the road transport sector.
"in the current pandemic situation the protection of life and health of citizens is of utmost importance. Border control measures should not lead to unwanted gatherings of large groups of people in one place, as well as to obstruction of the continuity of economic activity", Georgi Todorov said in the letter.
In the document, the Minister welcomed the Commission's strong commitment to the challenging situation caused by the subsequent COVID-19 wave and the latest events in Afghanistan and called for preventing the formation of queues of passenger and freight traffic in the pandemic.