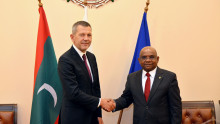 Minister Georgi Todorov met the Minister of Foreign Affairs of the Republic of Maldives Abdulla Shahid. They discussed the opportunities for improvement of air connectivity between the Republic of Bulgaria and the Republic of Maldives.
Minister Georgi Todorov pointed out that there is an Air Services Agreement signed by Bulgaria and the Maldives, which regulates the legal framework in this field. Charter flights to the Maldives are currently operated. "In terms of the legal framework there is no obstacle for the opening of a direct air line between Bulgaria and the Maldives. It is necessary to explore the readiness and the interest of the companies for direct flights between the two countries", Georgi Todorov said.
Both Ministers expressed hope for the strengthening of cooperation between Bulgaria and the Maldives in the field of air transport, which could cause an increase of tourist flows and bilateral trade.