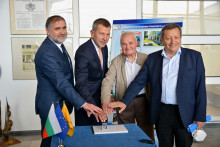 Sofia Flight Training Center (brand name of Institute of Air Transport Ltd.) established itself over the years as a forge for personnel, with sustainable trends for future development and innovative projects. This is what the Minister of Transport, Information Technology and Communications Georgi Todorov stated within the validation of a postage stamp dedicated to the 50th anniversary of the establishment of the organization. The stamp is printed in a limited edition and will arouse the interest not only of aviators and philatelists, but also of all people who send letters, he added.
The ceremony took place at the Aviation Club, in the building of Terminal 1 at Sofia Airport. The Manager of the Institute of Air Transport and Chairman of the Bulgarian Airlines Association Svetoslav Stanulov expressed the industry's gratitude to Georgi Todorov for his personal contribution to the establishment of the museum.
A meeting with the aviation industry is going to take place within which the possibilities for recovery from the crisis, which occurred as a result of the restrictions because of the COVID-19 pandemic, are to be discussed, the caretaker minister said in response to a journalist's question. According to him, there are indications for some movement, but it is too early to talk about sustainability in aviation growth.