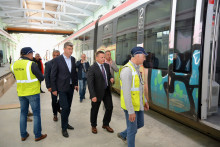 I regularly observe the schedule of all major repairs, according to the contract, and in 60 days or sooner I will re-inspect the phase of their implementation. This is what the Minister of Transport, Information Technology and Communications Hristo Alexiev stated at another unannounced inspection at Iliyantsi Railway Depot.
In the framework of the inspection, Minister Alexiev found that after his personal intervention, at the time being an overhaul was launched, but only on one train.
"I have definitely set a condition for BDZ-Passenger Transport and the contractor Alstom to update the line schedule for the train maintenance project by October 4 in order to speed up major repairs", Hristo Alexiev said.
The Minister again expressed dissatisfaction and found a slow pace in the implementation of repair work. He said that within a year and nine months, the only thing done in the railway depots was a visual inspection and ongoing repairs.
"In order for BDZ-Passenger Transport to be competitive with other modes of transport, fast and adequate measures are needed to increase the number of train passengers",  Hristo Alexiev said.