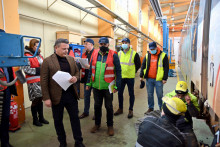 I sent the two audit reports on BDZ's contracts for the repair of multiple-unit trains and wagons with Alstom and the Dryanovo plant to the Prosecutor's Office. This is what the Minister of Transport, Information Technology and Communications Hristo Alexiev stated after conducting an inspection at the Sofia Locomotive Depot.
The Minister found once again that the overhaul of the trains was not carried out according to the requirements at all, and that what was presented as completed was of absolutely poor quality. "On October 4, I attended the introduction of the first multiple-unit train overhaul. According to the contract and the accepted schedule, this repair had to be completed by December 4. I gave a respite and now I'm coming again to see what's done. I am extremely disappointed with what I see. Two months later, I found that the repairs were not completed even by 50%", Alexiev said. "I have ordered BDZ to impose penalties and I will check whether this has been done",  the Minister added.
According to him, the contractor Alstom performed mainly technical maintenance, which rose suspicions about the drain of significant funds. Minister Alexiev explained that the total contract was worth BGN 137 million, of which BGN 100 million was for current maintenance. "Thus, the contractor does not carry out any major repairs, which is very important given that these trains have a very long run," said Hristo Alexiev.
"Due to all these many violations and indicators of fraud that harm the State, the contract with Alstom was given to the Prosecutor's Office in my official letter", Alexiev said.
"Due to suspicions of forgery and fraud, the other contract concluded with the Dryanovo plant for the repair of 15 passenger wagons has also been sent to the Prosecutor's Office", the Minister said. He noted that according to the audit it was not clear how the price for repairing a wagon was determined, which was very high, the repair was assigned without procedure and without documentation. "The damage to the State is very serious. Many violations have been found, as well as falsification of documents and there is not even a preliminary offer", Alexiev added. The Minister said the price was totally inflated with an attempt to fabricate documents with old dates to cover up what they had done as repairs.
"This contract is to be investigated by the Prosecutor's Office on the basis of the specific facts and evidence provided, and the responsibility of BDZ management will be sought, during which the contract was concluded", Hristo Alexiev said.