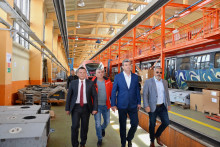 I will not allow inefficient spending of funds in the implementation of train repairs. This is what the Minister of Transport, Information Technology and Communications Hristo Alexiev stated at an unannounced inspection at Sofia and Iliyantsi railway depots.
The reason for his visit is that the information provided about the implementation of the contract under the project for maintenance of BDZ trains is unreliable. After the inspection, Minister Alexiev reported unscrupulous performance of the contract and a clear delay in carrying out major repairs.
"Currently, only current maintenance of the trains has been done and time has been lost for a period of one year and nine months for the restoration and major repairs", the Minister said.
During the inspection, Hristo Alexiev firmly set a condition for BDZ - Passenger Transport and the contractor Alstom to prepare a new line schedule in a short time, which will be presented to him in early October. The Minister requested a meeting with the management of Alstom in the building of the Ministry of Transport, Information Technology and Communications in connection with the established delays in the implementation of the project.
"Strict control of all activities operated by BDZ is needed in order for the carrier to provide a better service for passengers", Minister Alexiev said. He also noted that he would not allow an increase in ticket prices and would discuss the matter the following week with BDZ management team.