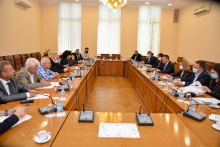 For the second time, bus carriers will be eligible to apply for financial support. This is what the Minister of Transport, Information Technology and Communications Hristo Alexiev stated at today's meeting with representatives of the bus industry and municipalities. According to him, the measure to support the sector, set for this year, for the first time includes large bus companies and municipal enterprises for passenger transport.
"The funds provided in the state budget are BGN 40 million. The term for their absorption is until the end of the year. To this end, we need to work as quickly as possible to clarify the eligibility criteria and the application procedure for these funds. After notification of the measure to the European Commission, the procedure for applying for and receiving funding from carriers and municipal transport companies will start", Minister Hristo Alexiev said. He was adamant that every effort would be made to find the right mechanisms for the fair distribution of the envisaged state aid.
Minister Hristo Alexiev announced that by the end of the next week all the necessary documents had to be sent to the European Commission in order to start the procedure for notifying state aid. Until then, the criteria must be worked out together with the industry and the municipalities.
The meeting was attended by the Mayor of Sofia Municipality Yordanka Fandakova, the Deputy Mayor of Sofia Municipality Doncho Barbalov, the Deputy Mayor of Gabrovo Municipality Maria Yozova, the Executive Director of National Association of Municipalities in Bulgaria Silvia Georgieva and representatives of the Confederation of Bus Carriers,  the Association of Road Transport Unions, the Chamber of Bus Carriers, the Chamber of Road Carriers in Bulgaria, the National Association of Bus Carriers in Bulgaria, the National Union of Carriers, the Association of Transport on Occasion, the Corporation of Road Carriers in the Republic of Bulgaria and the National Transport Chamber.