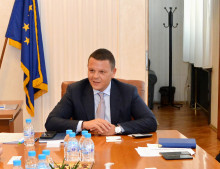 United and together, we will find a fair, non-discriminatory and adequate mechanism for allocating aid to the aviation sector. This is the conclusion of the meeting of the Minister of Transport, Information Technology and Communications Hristo Alexiev and the representatives of the branch organizations from the aviation industry.
"Assisting Bulgarian airlines in overcoming the damage caused by the COVID-19 pandemic is extremely important for the preservation of the industry that is most severely affected by the pandemic", Minister Hristo Alexiev said. He pointed out that all possible and timely actions would be taken to resolve this issue. The participants in the talks agreed to form an expert working group to prepare the rules and principles for the allocation of the envisaged state aid.
The meeting was attended by the Chairman of the Management Board of the Bulgarian Airlines Association (ABA) Svetoslav Stanulov, the Executive Director of Bulgaria Air Hristo Todorov, the Chairman of the Management Board of the Bulgarian Aviation Industry Association (BAIA) Todor Ivandjikov and Yanko Ivanov, Co-Chair of BAIA.