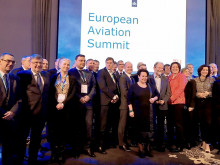 The adoption of the regulation on passengers' rights and safety rules regarding the use of unmanned aircraft (drones) should be considered as a top priority. That said the Minister of Transport, Information Technology and Communications Ivaylo Moskovski during the World Summit on Aviation of the European Union, which takes place in Amsterdam today.
Minister Ivailo Moskovski said that the negotiation of air transport agreements would improve market access and investment opportunities in important overseas markets for airlines in the European Union. He expressed the support of the Bulgarian side in favour of the proposed external aviation policy and called for the conclusion of agreements on aviation safety and air transport with all countries outside the European Union, which are key for the aviation industry. In his words, safety and security in aviation will increasingly depend on innovation, so that new systems and technologies should be introduced as a priority.
The meeting was organized under the Dutch EU Presidency and is considered as one of the most significant events this year. The event was attended by representatives of the European Commission, the European Parliament, transport ministers, directors-general of national supervisory authorities and representatives of the aviation industry of the 28 Member States of the European Union.
During the event were discussed key aspects of the aviation strategy for Europe and the priorities related to smart regulation, connectivity and innovation in the aviation industry.
***
The Aviation strategy for Europe is a strategic document to stimulate economy, increase industrial capacity and strengthen the EU leadership on world stage. The strategy envisages a revision of the EU rules on aviation safety and negotiation on comprehensive aviation agreements with key partner countries.
The aim is to boost the international competitiveness of the EU's aviation industry through investment and opportunities for sustainable growth. Aviation sector that is stable and open will be beneficial not only for business but also for European citizens offering more connections to other parts of the world at lower prices while ensuring the highest degree of safety and security.