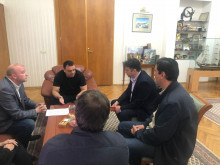 The establishment of a single registration regime for all vehicle repair shops with common rules and control, will increase road safety and protect vehicle owners' rights. This emerged from the meeting between the Minister of Transport, Information Technology and communications Ivaylo Moskovski and representatives of the Automotive Service Association.
At present vehicle repairs are not regulated in Bulgaria, and we envisage the introduction of a minimum qualification requirements for workshop staff, announced during the meeting Minister Moskovski. "We propose that workshops provide a document to guarantee the repair works, as well as information on the origin of the spare parts used", further added the Minister. The database will facilitate keeping a record of the technical maintenance of vehicles. This will provide information on the repairs that were done, the timeline and the workshop.
Introducing rules for workshops activity will bring light to the sector and reduce unfair competition, was pointed out at the meeting. "The aim is not for workshops to close down, but to come out of the grey sector and work in equal conditions and control", added the Minister.
In the first week of public discussion of the draft law, there will be a national round table organized with representatives of all towns and cities and stakeholders to find the most appropriate solutions to include in the draft law.