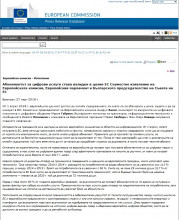 The Minister of Transport, Information Technology and Communications Ivaylo Moskovski, in a joint statement with the EC Vice-President Andrus Ansip, the Commissionaire for Digital Economy and Society Mariya Gabriel and members of the European Parliament, welcomed lifting of restrictions on the usage of digital content in the European Union.
As of April 1, 2018 Europeans will have access to online content they subscribed everywhere in the EU. Restrictions, which prevented citizens of a given state to use their monthly subscriptions for media and content abroad, will be lifted. "This is yet another success of the Digital Single Market following the effective revocation of roaming fees available for EU users since June 2017", stated the European representatives.
The new rules concern digital subscription for movies, series, sports programs, games or e-books. They will be applicable to paid services, yet free content providers could also benefit. Online content providers will also benefit, as they will not need to obtain license for countries where their subscribers travel.
The joint statement points out that 29 million people, that is 5.7% of EU users, could make use of the cross-border transfer, as in the future their number will increase to 72 million people by 2020.
There is the common understanding that the transfer agreement is a remarkable result of the close cooperation between EU institutions, European companies and stakeholders. According to today's message, this is yet another specific step in the development of a true Digital Single Market and an united European digital society that are accessible for citizens and profitable for business.