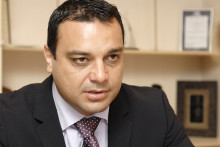 Minister of Transport, Information Technology and Communications Ivaylo Moskovski has ordered an immediate detailed inspection of the company "Union Ivkoni". The reason for the urgent action was the last night incident with a company's bus, which was carrying passengers on the line Sofia - Sunny Beach.
Within a few days, the inspectors of the Executive Agency "Automobile Administration" will inspect the overall activity of the carrier, paying special attention to the organization of the transport, the schedules and the compliance with the requirements for the rest of the drivers, as well as all the necessary documents for the implementation of the transport service. An inspection is also carried out on a case-by-case basis, as the findings and inspection materials will be provided to the investigative bodies.
Given the upcoming winter season, Executive Agency "Automobile Administration" will focus on the vehicles' preparation for public transport of passengers and freight. Special attention will be paid to the tires, the braking systems, the lights and the general technical condition. The inspectors will monitor the timing of driving and resting of the drivers and the availability of all necessary documents.