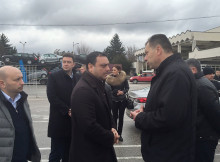 The Minister of Transport, Information Technology and Communications, Ivaylo Moskovski held a meeting today with the Deputy Prefect of the Central Macedonia Region for Serres, Greece, Yanis Moisyadis.
Minister Ivailo Moskovski stated that the Bulgarian side provides food, water and chemical toilets for the blocked carriers. He insisted that Deputy Prefect Yanis Moisyadis should provide assistance in the ensuring of the same conditions for people waiting on Greek territory. For its part, Yanis Moisyadis pledged to do so in short terms.
They also agreed that Deputy Prefect Yanis Moisyadis should inform the Governor of Blagoevgrad, Biser Mihaylov on a daily basis for upcoming blockings or liberations of trans-border traffic, so that the Bulgarian carriers could plan their shipments.
Minister Ivaylo Moskovski informed Deputy Prefect Yanis Moisyadis that the Bulgarian side has acquainted the European Commissioner for Transport, Violeta Bulc for the impeding of free movement of people and goods on one of the busiest and important Trans-European Transport Corridor - № 4.
Minister Ivaylo Moskovski talked with protesting Greek farmers and demanded of them to allow the free passage of food and water supplies for Bulgarian carriers, as well as to introduce a precise timetable for omission of Bulgarian trucks in order to prevent any tension on both sides. He added that he respects their right to express their views freely and to defend their demands, but that shouldn't lead to the suffering of others, as well as to loss of business in Bulgaria.
Protesting Greek farmers thanked Minister Ivaylo Moskovski for being the only representative of the Bulgarian authorities who gave them attention and made a commitment to allow the passing of food and water supplies and to provide timely information for upcoming blockings of the border.