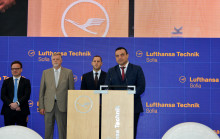 Our policy is aimed at creating a favorable business climate. This was stated by the Minister of Transport, Information Technology and Communications Ivaylo Moskovski while presenting Lufthansa Technik Sofia's the new hangar and office building. In his words, involving more private investors will provide the necessary financial resources and expertise, not only for the development of the aviation sector but also for the country's economy.
"In recent years, Bulgaria proved to be a reliable and desirable partner for a number of world companies, such as Lufthansa," said Minister Moskovski. He congratulated the company's management on investing in increasing aircraft service capacity and creating new jobs. "This is a modern high-tech project, thanks to which many young and competent people will continue to work and develop in Bulgaria," Moskovski also added.
During the event, Minister Ivaylo Moskovski also handed in a certificate to the executive director of the company, Daniel Hoffman, for contribution to the development of Bulgarian aviation, such a certificate will be handed over to the first CEO Bernd Frekmann.

The new facility adds 3 more lines for airplane services to the existing 5, and the number of employees will exceed 1000. The extension includes a six-storey office building. With this the Lufthansa Technik Sofia's base is formed as the largest in Europe.