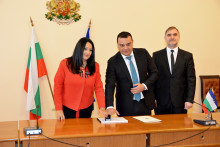 The postage stamp dedicated to the Bulgarian Presidency of the Council of the European Union will be our country's visiting card. This was stated by the Minister of Transport, Information Technology and Communications, Ivaylo Moskovski during a ceremony for validation of the special postal-philatelic edition. Minister Moskovski, together with the Minister for the Bulgarian Presidency of the Council of the EU 2018, Lilyana Pavlova, the artist of the projects, Todor Angeliev and the Executive Director of Bulgarian Posts EAD, Deyan Duneshki launched in use the postal-philatelic edition.  
Each postage stamp is a mini encyclopedia of the events and facts of our modern history, Minister Moskovski also said. He added that today's edition is related to the taking of many important decisions for the telecommunications and information technology - a sector with great benefit, both for the Bulgarian economy and for Europe.
The Ministry of Transport, Information Technology and Communications took another step - we have kept Cyrillic internet names for the Presidency's website, Minister Ivaylo Moskovski said. In his words, this way we will popularize the Bulgarian alphabet all over the world.
"I believe that during the Bulgarian Presidency we will preserve all the European values and Bulgaria will be an important factor in the stability policies of the region and the integration of the Western Balkans," the minister said.
The postage stamp validated today will be part of the official correspondence related to the Bulgarian Presidency, Minister Lilyana Pavlova said. The edition will also be included in the gifts that every participant in the sessions and events will receive.
Finally, the artist Todor Angeliev said he is happy that the postage stamp for the Bulgarian Presidency of the European Union is being put into usage in one of the brightest celebrations related to the Bulgarian spirit and culture – The National Awakening Day.