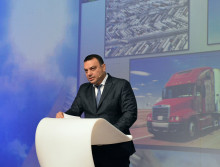 Bulgaria is preparing a Memorandum on Roaming Tariffs Reduction with the governments of the Western Balkan countries. This was stated by the Minister of Transport, Information Technology and Communications, Ivaylo Moskovski during the opening of the conference "Logistics Horizons 2025". Moskovski emphasized that one of the main aims during the Bulgarian Presidency will be the accession of the countries of the Western Balkans to the European Union. "Connectivity in all its aspects is of utmost importance for the integration of the Balkan countries into the EU and we will work to make it happen. Reducing roaming tariffs is an important step in this process, "he added.
Currently, the tariffs of the talks with the countries of the Western Balkans are extremely high (100 times compared to the national tariff plans in Bulgaria, which are also valid when traveling to the European Union). According to Minister Ivaylo Moskovski, analyzes show that a very large number of tourists and business people are interested in lowering these tariffs. "Signing these intergovernmental agreements is an expression of our political will, with which we will send a clear message that the integration of the Western Balkans is of the utmost importance for the whole of the European Union. I believe that this will motivate telecom operators to conclude agreements on real roaming tariffs reduction and Internet usage," stated the minister.
The transport connectivity of the Western Balkans is another focus that will give a new perspective to the development not only of the region but also of the whole European Union, said Ivaylo Moskovski. The inclusion of Corridor 8 in the Berlin Process was the first step in this respect, and the next is connecting Sofia and Skopje with a highway and a railway line. Ensuring the necessary financial resources for the overall construction of Corridor 8 is of particular importance to us, stated Minister Moskovski.
"In the automobile sector, we will take active action to reduce the administrative and financial burden of the transport companies. In discussing the so-called "Macron" law before the EU Council of Ministers for Social Policy, the section on the transport sector was completely removed. We will maximally protect the Bulgarian companies' interests so that there is no burden on them - neither administrative nor financial. We are preparing a special legislative proposal for the international drivers' missions and rests and cabotage activities" announced Ivaylo Moskovski. He added he expects serious debates over the idea of banning drivers from taking weekly rest on board, as well as the proposed provisions for compulsory return of drivers to their countries every three weeks. "The proposed measures concern mainly the peripheral countries of the EU, including Bulgaria, and we will work for the adoption of precise and fair regulations at the level of the European Union," said the minister.