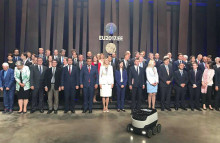 Bulgaria will work to provide radio spectrum for the latest generation 5G telecommunication connectivity, stated Minister of Transport, Information Technology and Communications Ivaylo Moskovski during a discussion within the Informal Meeting of Ministers for Competitiveness and Telecommunications of the European Union. The forum is held today in Tallinn, Estonia. Ministers also signed a Joint Declaration under the motto "Making 5G a success for Europe".
Minister Moskovski supported the initiative to build a fully-fledged society with the implementation of new technologies based on high-speed networks. "The deployment and development of 5G connectivity in all sectors of industry and ordinary people's lives will contribute to the development of Digital Single Market", said Minister Ivailo Moskovski. In his words, the completion of the European Digital Single Market  is a major objective for the Bulgarian government, including for the upcoming Presidency of Bulgaria of the Council of the European Union.
Minister Moskovski and his colleagues shared the view that the new telecom networks will be the backbone of the European Digital Market. By 2020, it is expected to have 26 billion connected devices. 70 % of people will have a smartphone. 5G infrastructure provides high-speed connectivity not only between the industrial sector in Europe but also between individual household and urban environments. This connectivity is the foundation of eHealth, energy management and autonomous vehicles.