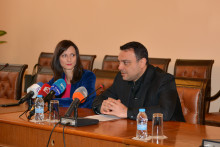 European Commission's initiative WiFi4EU will upgrade the policies we are conducting in the field of digital technologies, stated the Minister of Transport, Information Technology and Communications Ivaylo Moskovski at the joint presentation of the project for free public WiFi access in the EU together with Mariya Gabriel, EU Commissioner for Digital Economy and Society.
Minister Moskovski added that Bulgaria provides a decent infrastructure for broadband Internet access. Nevertheless, there is a misbalance between big cities and small villages. In his words, Internet access speed is very good, yet the coverage needs improvement. "Still some 32 per cent of Bulgarians do not use the Internet and the project will contribute to the digital awareness", pointed out Minister Moskovski. He called for municipalities to actively register and apply for financing.
EU Commissionaire Mariya Gabriel thanked the Minister and his team for their work in promoting the WiFi4EU initiative. "In less than a year since the announcement of the project, we already find ourselves at the implementation stage", she said further. The aim is to provide every citizen with Internet access, and that is why the project encompasses all municipalities. There is financing allocated amounting to some 120 million Euros for the next two years. Mrs Gabriel recalled that the financing principle is "first come, first served". The Commissionaire added that the registration is ongoing and municipalities and operators shall look into the terms and conditions. Project application is scheduled for May 15, 2018. At present, some 7502 municipalities from all over Europe have registered, 193 of them being from Bulgaria.
Within the first competition, the first 1000 projects will be financed via a special algorithm. If a given project is not selected at the first stage, it could apply for financing at the other four competitions.
Representatives of municipalities who participated in the meeting, thanked for the event and highlighted that there is great interest in the initiative, which is proved by the large number of applicants.