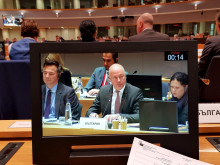 At today's EU Council meeting, five more Member States supported our position to drop the requirement for trucks to be returned to the place of establishment within four weeks. This was stated by the Minister of Transport, Information Technology and Communications Rossen Jeliazkov today in Brussels after the meeting with ministers from the group of the like-minded states on the Mobility Package 1, which inclides Bulgaria, Romania, Poland, Hungary, Latvia and Lithuania.
"It is unacceptable to think about how to reduce harmful emissions on the one hand and to create policies that cause great damage to climate on the other. It is our position that the return of the trucks every four weeks is absolutely unacceptable. This is the most unfair, disproportionate and discriminatory element in the package that divides Central European and peripheral countries. I think we will gather the necessary support for the elimination of this requirement," was the firm position of Rossen Jeliazkov.
According to him, there are red lines that we cannot agree to cross, and compromise solutions must be found, just as the values of the Union say - free movement of people and goods, as well as freedom in the common market - must be found. "We will hold further talks with countries outside the group of the like-minded, as well as with the business, on the search for compromise texts and solutions," said Rossen Jeliazkov.
"We continue to work with carriers, I thank them for all the efforts they make. We are together with them in this process, with the clear awareness that we will achieve a better situation than the current one, but we cannot achieve everything because the majority is so constructed that if it wants to accept the texts as they are, it will accept them," the minister said.
Rossen Jeliazkov added that for the Government and for him the topic of the Mobility Package 1 remains important and is a priority. He expressed confidence that Europe could unite around compromise texts in order to achieve the objectives of stability, sustainability, proportionality and fairness.
A decision by the Transport Committee of the European Parliament is expected next week on whether to open trilateral negotiations between the European Parliament and the EU Council, with the participation of the European Commission. According to Minister Jeliazkov, these negotiations are expected to continue in the next year, when the EU's Presidency is taken over by Croatia.