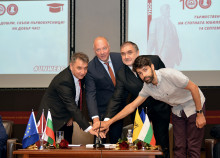 "I call on students not to underestimate the development of the transport as a sector. In the coming decades digitalization and decarbonisation, as key EU policies, will focus mainly on transport connectivity. On the other hand, information technology is part of our way of life regardless of whether we wish it so brightly or not", said the Minister of Transport, Information Technology and Communications Rossen Jeliazkov during the opening ceremony of the 100th anniversary academic year of the University of National and World Economy (UNWE).
"Our collaboration with UNWE has always been of high level. We have defended a lot of projects and have created policies via them", added the Minister.
Minister Rossen Jeliazkov and the rector of the university prof. Dimitar Dimitrov validated a special edition of postage stamps "100 years UNWE". "UNWE is the first university in economics, which, during the vicissitudes of historical metamorphoses, has always proudly been the flagship of economic thought in Bulgaria. We believe that the university will continue to be a pioneer in the development of economic knowledge in the forthcoming times of expectations, hopes but also great challenges", said also the Minister.
Following the ceremony of launch into circulation of the edition the rector of the university prof. Dimitrov handed over to Minister Jeliazkov an honorary plaque.
The event was attended by the government of the Bulgarian National Bank Dimitar Radev, the President of the Bulgarian Academy of Sciences acad. Julian Revalski, the rector of "St. Kliment Ohridski" University prof. Atanas Gerdjikov, academicians and students.