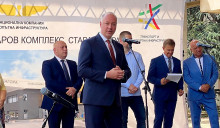 Minister of Transport, Information Technology and Communications Rossen Jeliazkov launched the reconstruction of the railway station complex at Stara Zagora . The term for the implementation of the activities is 24 months.
"The project creates a new sense of modernity of the city and the comfort of passengers, who, departing from Sofia to Bourgas, will pass through the renovated stations", said Minister Jeliazkov during the ceremony. He reminded that Stara Zagora station is one of the six railway stations that will be modernized with funds from the Operational Program on "Transport and Transport Infrastructure" - along with Karnobat, Poduyane, Iskar, Kazichene and Nova Zagora.
*****
The value of the contract on the Reconstruction of railway station complex Stara Zagora is at the amount of 9 726 944, 27 BGN, VAT excluded. The contractor is DZZD "European Station - Stara Zagora".
Scope of the project:
o Complete architectural renewal of the reception building and all its premises;
o  Provision of an accessible environment, including the delivery and installation of elevators and escalators; Equal access to all public areas will be provided (including tactile and guide strips, Braille signs);
o  Replacement of the electrical installation, construction of a photovoltaic power plant with a capacity of 30.40 kW; Thus, part of the consumption of the station will be ensured.
o  Ensuring of safe and unobstructed access to the industrial part of Stara Zagora through a pedestrian underpass.
o  Replacement of pavements on the first platform and around the reception building;
o  Replacement of water supply and sewage network;
o  Construction of fire-fighting plumbing;
o  New installations for heating, air conditioning and ventilation.