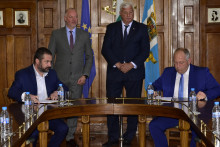 Modernization of Plovdiv railway junction will enable the completion by 2024 of the railway to Bourgas, along which trains to the sea will operate at 160 km/h and will pass without conflict through Plovdiv at 130 km/h. This was stated by the Minister of Transport, Information Technology and Communications Rossen Jeliazkov at the signing today of a contract between the National Railway Infrastructure Company and the contractor of the modernization Geostroy Lantania.
"Within the framework of this project, the commitment has been made both to the citizens of Plovdiv and in the national aspect to invest nearly BGN 250 million", added Minister Jeliazkov. According to him, this will allow not only the modernization of the Plovdiv Railway Junction, Distribution Station, Central Station, the railway line, the security systems, telecommunications and signaling. "These are elements of the renewal of our country's infrastructure and the commitments we have made and are clearly implementing together with our European partners, which fund the Connecting Europe Facility", he added.
***
Project "Modernization of railway, catenary and signaling and telecommunications systems in the railway sections Plovdiv-Krumovo and Plovdiv-Skutare, including in the stations Plovdiv Distribution, Krumovo, Skutare and Check Point Trakia" is part of the project "Development of Plovdiv Railway Junction". The value of the construction contract is BGN 132,520,700 without VAT. The implementation period is 35 months. European co-financing is under the Connecting Europe Facility.