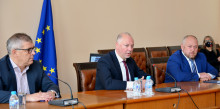 Passenger service in an organized manner will be provided with regard to the implementation of the project for development of Sofia Railway Junction, in the section Sofia-Voluyak. This is what the Minister of Transport, Information Technology and Communications Rossen Jeliazkov stated at the opening of a Press Conference of the Management of National Railway Infrastructure Company and Bulgarian State Railways in connection with the coordinated actions of implementing the reconstruction and ensuring the comfort of passengers.
As of April 29, changes are introduced in the organization of train traffic through Sofia Central Station due to the start of the modernization of the tracks. The first to seventh tracks will not be in use during the repairs. The movement will be carried out from the 8th to the 14th track, and an organization for the transit of trains will be created. This will reduce the time for composing and staying of trains at the station.
Out of 560 trains a day running across the country, 170 trains pass through Sofia Central Station (85 departing and 85 arriving). This is about 30% of all trains. In addition, 30 more service trains pass through the station, intended for composing trains.
To provide more flexible traffic, the schedules will be changed by up to 10 minutes on about 20 regional trains.
The development of Sofia Railway Junction is co-financed through Connecting Europe Facility. It includes two main contracts: "Design and construction for modernization of the track development at Sofia Central Station and railway section Central Station Sofia-Voluyak " and "Design and construction of signaling and telecommunications systems and European Rail Traffic Management System (ERTMS)".
The modernization of the railway infrastructure at Sofia Railway Junction will lead to the improvement of the safety of the railway network by installing new intelligent systems such as the European Rail Traffic Management System (ERTMS), signaling and GSM-R communications. The capacity and speed of the line will be increased, and rail transport will become competitive with road transport.