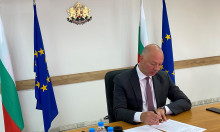 Rail freight transport proved to be reliable and efficient in the time of crisis, as in Bulgaria there was an increase of transport of goods in the second quarter of 2020 approximately by 17% compared to the same period in 2019.  This was stated by Mr. Rossen Jeliazkov, Minister of Transport, Information Technology and Communications during a videoconference of the EU transport ministers. The topic of the forum was "Innovative rail transport - connecting, sustainable and digital".
"Bulgaria has joined the Berlin Declaration on strengthening the functioning of Rail Freight Corridors," said Minister Jeliazkov. According to him, the inclusion of specific texts that regulate the coordination between all freight corridors would contribute to further improving and developing the potential of the European rail freight sector.
 "The digitalization is a potential opportunity to increase the attractiveness of rail freight transport" stressed the Bulgarian Minister during his intervention. "We support the initiative to introduce digital automatic connection and believe that the program for its implementation will provide the necessary funding", Rossen Jeliazkov added.