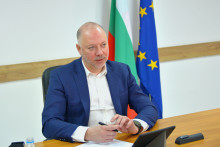 Rolling stock for BDZ will be financed with European funds for the first time under the Recovery and Resilience Facility of the European Union, stated the Minister of Transport, Information Technology and Communications Rossen Jeliazkov during an online discussion on "Railway transport development prospects in Bulgaria". The event was organized jointly with the MEP Andrey Novakov and was attended by the European Commissioner for Innovation, Research, Culture, Education and Youth Maria Gabriel, the Director General of the National Railway Infrastructure Company Krasimir Papukchiyski, the Chairman of the Board of Directors of "Holding BDZ" EAD Grigori Grigorov and representatives of the Passenger Advisory Board.
"The goal is to replace 50% of the railway rolling stock by 2024 by purchasing of new rolling stock", announced Minister Jeliazkov.
During the discussion Rossen Jeliazkov gave a general overview of the projects set out in the National Recovery and Sustainability Plan, which meet simultaneously the criteria and requirements of the EC for investment in green and digital transition. He also noted that the objects are of high degree of readiness, and the goal is to complete them all by 2026 at the latest. Jeliazkov also stressed that the selection of projects is aimed at increasing security and territorial balance of growth, because most of the investment is directed to Northern Bulgaria. The selection of the projects in the National Reconstruction and Sustainability Plan enables a thorough relation of the investment with that allocated in line with OP "Transport and Transport Infrastructure" and the Connecting Europe Facility.
The projects included in "Transport Connectivity" concern digitalization in railway transport through modernization of safety and energy efficiency systems along the railway lines of the core and  the extended TEN-T network, reconstruction and rehabilitation of station complexes Mezdra and Cherven Bryag and construction of intermodal terminal Gorna Oryahovitsa, modernization of traction substations and section stations along the core and the extended TEN-T network, with construction of SCADA remote control and tele-signaling system, provision of sustainable transport connectivity and service through purchase of energy efficient and comfortable rolling stock and others.
From March to May we will launch all projects in the section between Sofia and Septemvri, "Plovdiv" railway junction, Orizovo-Mihailovo section, "Zimnitsa" station, signaling and telecommunications along Plovdiv-Bourgas section, as well as the 27 overpasses, which are related to traffic safety along the high-speed Plovdiv-Bourgas section", said the General Director of the National Railway Infrastructure Company Krasimir Papukchiyski during the discussion.
In 2024 we will have a completed rail highway in the section from the Serbian border to the border with Turkey, as well as in the Plovdiv - Bourgas section, he added. We focused on improving the balance of railway infrastructure in the Northern - Southern Bulgaria direction. In the last 2 years we have been working actively on the Rousse - Kaspichan section. By 2024, 140 km of railway line should be renovated with European funds provided for the renewal of security equipment and digitalization.