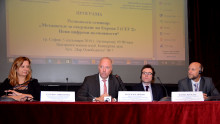 We need to achieve synergies between € 3 billion in European funds over the next 7-year period and the efforts of economic operators to build high-speed digital infrastructure. This was stated by Minister of Transport, Information Technology and Communications Rossen Jeliazkov during the opening of the Regional Seminar: "Connecting Europe Facility 2 (CEF 2): New digital opportunities".
According to him, all targeted investments have a huge effect. As an example, the Minister gave the initiative for free wireless internet in public places. "WIFI4EU has shown that local communities are not only prepared but also seeking this access, not because it is free, but because it is efficient and enables small municipalities to provide the population and consumers with an Internet that is already part of our ecosystem. . This fact was also emphasized in the presentations of representatives of the European Commission, in which Bulgaria was named the most successful country in absorbing the WIFI4EU funds, "he stressed.
Rossen Jeliazkov pointed out that the interaction with the telecommunication business should be developed especially in the regions where there is no economic potential. The state-built 7,000 km of high-speed fiber optic infrastructure, along with future networks, will allow this model of synergy to be made, he added.
The Connecting Europe Facility provides a budget of € 3 billion for the seven years 2021-2027 in various priority areas, representatives of the Directorate-General for Communication Networks, Content and Technology at the European Commission and the European Network of Competitors said during the event. broadband services. The deployment of high-speed internet access networks and the construction of 5G corridors along transport routes will be funded.
"The 5G theme includes several elements - technological, financial and regulatory. I expect the Department of Defense to respond in the near future to our appeal for the release of the 700-800 megahertz band so that these frequencies can be made available for the deployment of 5G infrastructure. " Minister Rossen Jeliazkov said this in response to a journalist's question after the opening of the seminar. He added that there was also a discussion with the telecom operators and the Ministry of Finance about the new spectrum tariff because it would be one of the promotional elements in the policy for the deployment of 5G infrastructure. "We want to develop 5G infrastructure and not control input, but execution. This means less administrative burden in terms of deployment and more control over the ecosystem, "the minister said.