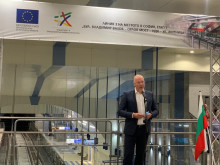 The third stage of the metro provides connectivity from the airport to the stations and bus stations, which will allow a very fast spillover of passenger flows between different modes of transport. This was stated by the Minister of Transport, Information Technologies and Communications Rossen Jeliazkov, who together with the Mayor of Sofia Yordanka Fandakova and the Director of the Sofia Metro Stoyan Bratoev, inaugurated a section of the third line of the metro.
"The transport infrastructure, as well as the rolling stock are not an end in themselves, the goal of all efforts is to provide a good service for the movement of citizens and guests of the city, because a large part of our daily lives passes when travelling", the Minister added. He stressed that the construction of the Sofia City Railway created added value not only for passengers but also for users of the adjacent infrastructure.
According to Rossen Jeliazkov, rail transport is the future. "It is important for the European Commission to be convinced that it is very important to continue the grant funding for the completion of the third stage of the third metro diameter, why not with combined instruments. Our goal is to provide the best possible service for more people and that is why we will be reasonably persistent to the commission for providing financial resources", Minister Jeliazkov stated.
"Today is a day of gratitude – first of all to all European taxpayers who have contributed to the gratuitous financing of the project, secondly to the designers, builders, the contracting authority, personally to Mrs. Fandakova and Mr. Bratoev for their tireless efforts to the implementation of this important policy for transport connectivity and last but not least the colleagues from the Managing Authority of the Operational Program on Transport and Transport Infrastructure", the Minister added.
The section that opened today is the first stage of the third metro line. The route between Vladimir Vazov Blvd. and Zhitnitsa St. in Krasno Selo District is 8 km long and includes 8 metro stations. The second stage is 4 km long with 4 more metro stations and is the final destination of the railway station in Gorna Banya District on the Sofia Ring Road.
The total value of the contracts concluded for Line 3 is BGN 974,088,000, and the grant provided by the European Regional Development Fund by means of OP "Transport and Transport Infrastructure" amounts to BGN 661,128,000.