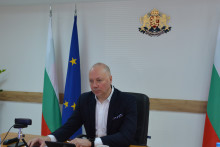 The pandemic can be also seen as an opportunity, not just as a problem - an example is that in a month have been created the main modules of a health information system, which has been discussed for years and which gives us a completely different approach to the health system. Stated the Minister of Transport, Information Technology and Communications Rossen Jeliazkov during an international video conference forum organized by the world economic edition The Economist. Topic of the virtual event discussions was the EU Recovery and Resilience Fund, and the transition to innovation, green agenda and digital transformation.
The minister added that the country strives to achieve European strategic goals, incl. for 5G cities. According to him, the development of 5G technologies will make mobile downloads much faster as the responsive mobile internet will create new opportunities for distance learning and work. "The 5G networks will provide secure access to cloud content, business applications, telemedicine," said Rossen Jeliazkov.
As one of the important steps for ensuring the transport connectivity, the minister outlined the built of sections of Line 3 of the metro in Sofia. The necessary funds are 762.9 million BGN as 360 million BGN of which are from the Recovery and Resilience Fund. "Another important project is the renewal of the rolling-stock/fleet for urban and intercity transport "Green Mobility", which amounts to 100 million BGN. "The project for modernization of key railway station complexes Mezdra and Cherven Bryag, and the construction of an Intermodal terminal in Gorna Oryahovitsa will also contribute to the urban development, "said in conclusion Rossen Jeliazkov.