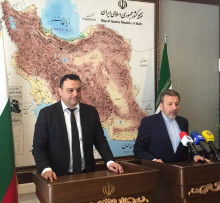 Bulgaria and Iran are ready to work together on the development of a new Black Sea – Persian Gulf transport corridor from Bulgaria through Armenia, Azerbaijan and Georgia to Iran. This position was expressed during the Eighteenth Session of the Intergovernmental Bulgarian-Iranian commission on economic, scientific and technical cooperation, held in Tehran from 6 to 9 March 2016. Head of the Bulgarian delegation at the forum is the Minister of Transport, Information Technology and Communications Ivaylo Moskovski.
During a meeting with the Iranian Minister of Roads and Urban Development Abbas Akhoundi Minister Ivaylo Moskovski said that the corridor will create opportunities for efficient and reliable freight transportation between the countries in the Middle East and Central and Eastern Europe. The project will contribute to exploit the growing trade potential in both regions and maintain the transit traffic to and from the Far East.
This issue was also raised during the talks between Minister Ivaylo Moskovski and the Minister of Industry, Mining and Trade Mohammad-Reza Nematzadeh. The two ministers expressed their common position that Bulgaria can be the gateway for Iran to Europe, and Iran – Bulgaria's gateway to the Persian Gulf and Asia.
Among the topics of the meeting was the opening of the banking systems and the opportunity for both countries to ensure bilateral trade through various payment instruments. It was specified exchange of delegations between the Mining and Geology University in Bulgaria and Iranian universities.
The Iranian Minister of Industry asked Minister Moskovski for assistance regarding the accession of Iran to the World Trade Organization and received assurances of support. In conclusion, the Bulgarian Minister said that Bulgaria and Iran have good political relations and it is the moment to develop economic links as well.
Minister Ivaylo Moskovski met the Minister of Communications and Information Technology Mahmoud Vaezi too. During the talks the Bulgarian Minister proposed to accelerate cooperation on current issues in this area. Minister Moskovski expressed interest in exchanging information and experience in the areas of e-governance, information technology, electronic and postal communications. His Iranian counterpart provided information on the administrative structure responsible for e-government, development and maintenance of data centers and Internet governance as an important strategic resource.
Minister Moskovski assured Minister Vaezi that the Bulgarian side is ready to sign a Memorandum of Understanding on cooperation between the Bulgarian Posts and the Post Company of Iran.
During the Eighteenth Session of the Joint Intergovernmental Commission have been established committees that will elaborate a joint memorandum and a protocol of the meeting. The Session of the Intergovernmental Bulgarian-Iranian commission on economic, scientific and technical cooperation continues until 9 March.