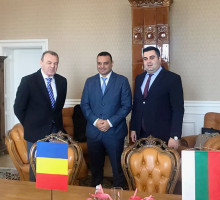 The safety of navigation in the common Bulgarian-Romanian Black Sea region will be ensured via providing a place of refuge for accommodation of vessels in need of assistance. This will result from the Agreement signed today in the presence of the Prime Ministers of Bulgaria and Romania Boyko Borissov and Mihai Tudose and the Transport, Information Technology and Communications Minister Ivaylo Moskovski and the Romanian Ministers of Transport Alexandru - Răzvan Cuc and of Communications and Information Society Lucian Şova.
По този начин ще бъде осигурена безопасността на морското корабоплаване и ще бъдат изпълнени европейските изисквания за създаване на система на Общността за контрол на движението на корабите и за информация.
Thus, the safety of maritime navigation will be ensured and the European requirements for establishing a Community vessel traffic monitoring and information system will be met.
The conclusion of the Agreement sets out the procedures for cooperation with the Romanian side for drawing up a plan on the accommodation of vessels in the ports of the Black Sea region and for ensuring their safety. It also regulates the principles of bilateral cooperation as well as decision-making in providing a place of refuge to a vessel in order to avoid undue risk to navigation and the environment. The exchange of information between the responsible institutions is expected to be significantly improved, which will facilitate coordination between competent authorities in both countries for timely intervention, assistance and provision of accommodation.
Prior to the signing of the agreement Minister Ivaylo Moskovski held working meetings with his colleagues, Alexandru-Răzvan Cuc and Lucian Şova.
Minister Moskovski assured his colleagues that Bulgaria fully supports the future participation of Romania in the multimodal corridor Thessaloniki-Kavala-Alexandroupolis-Bourgas-Varna-Rousse. Ministers also discussed the progress of the joint Danube Safety Net project, as well as the issue concerning the maintainanceof  the Bulgarian-Romanian section of the Danube River. Moskovski assured his colleague that in this direction the Bulgarian government is pursuing an active policy and within three years our country will have modern equipment for river exploration and dredging of critical sections.
Minister Moskovski acquainted his colleagues with the priorities of Bulgaria in the Telecommunications sector for the upcoming Presidency of the EU Council. He assured his Romanian colleagues that with the election of Maria Gabriel as a commissioner for the digital economy and society, Romania can fully rely on support in the ICT sector and expressed confidence in the future successful collaboration between the two Balkan countries.