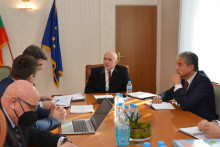 The concessionaire of Sofia Airport will accelerate investments in 2022. This was agreed today by the Minister of Transport and Communications Nikolay Sabev and the Executive Director of SOF Connect, Mr. Jesus Caballero. The Minister insisted on re-planning an investment program and moving some of the financial commitments set out in the concession agreement to an earlier stage.
The goal is Sofia Airport to offer a higher level of service as compared to Munich Airport. The Minister explained that he was impressed by the organization of the German airport and the zero level of tension among the passenger traffic there. He assured Caballero that the State intends to fulfill all its obligations under the concession contract and expects the concessionaire to make all the planned investments, as well as to offer passengers high quality and level of services. "I have neither prejudice, nor suspicion. I hold on to good professional relations, but I will defend the public interest to the end", the Minister explained.
Minister Sabev insisted that the commercial area of the airport be renovated and restructured as soon as possible, according to world standards. "We want passengers to get an 'experience' when they arrive and leave our country, not just good services. For too long the Bulgarian society has been promised a quality service, patience has been exhausted. We expect results from you. " For his part, Jesus Caballero informed him that they plan to invest 4 million euros in 2022 specifically for retail space. The Ministry's team is committed to helping achieve the common goals, promising the Working Group to meet as often as necessary to have a safe, highly efficient and representative airport. The chairman of the Working Group will be the responsible Deputy Minister Mr. Vladimir Varbanov.
"Our main priority is an efficient transport system, which must include the largest airport in the country. I will personally monitor compliance with the investment program and will assist you where possible. It is important to us that the amount of loans taken by you corresponds to the funds invested in the airport. Our good attitude will be measured by an objective indicator – the more investments you make and increase the quality of services, the better attitude we will have towards you. "
For his part, Jesus Caballero thanked Minister Sabev for the partnership and assured him that he would work for the transformation of Sofia Airport into a Regional Center. The director explained that he is working on opening 100 new destinations, including overseas ones, and that he has already developed an aggressive marketing plan.
Jesus Caballero informed the Minister and his team that a procedure has already been launched to select a global cleaning company that serves Munich Airport and 11 other airports around the world. Caballero explained that the company has state-of-the-art cleaning technologies, including robots.