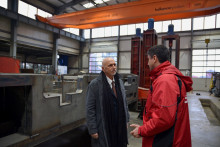 In the framework of his visit to the city of Ruse, the Minister of Transport and Communications Nikolay Sabev also visited the single company in Bulgaria that manifactured new locomotives. This is the first tour of the Minister in a railway site, where modernization and maintenance of rolling stock is carried out.
Minister Sabev showed interest in getting acquainted with the work process and found out that the company was clean, modern and well-organized.
During the tour it became clear that in fulfillment of a contract for modernization of two narrow-gauge locomotives between BDZ and the railway factory worth BGN 4,022,600, the first was expected to be ready in early 2022. The modernization of locomotives included their updated interior equipment. The performed repair works corresponded to the ecological norms, and for the second locomotive they would start shortly.
Nikolay Sabev reiterated his position that the development of ecological railway transport was a leading priority of the Ministry and every effort would be made in that direction.