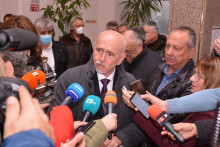 We will develop transport as a highly efficient system that includes all modes of transportation. This is what the Minister of Transport and Communications Nikolay Sabev stated during a public discussion on the resumption of flights from Ruse Airport and optimization of the crossing of the Danube Bridge.
"We have to consider airports, bus and train stations as transport centers, where the consumer does not waste time, but uses different modes of transportation from one place and can even travel with one ticket", Minister Sabev said. He informed the audience that the day before he held a coordination meeting with the Deputy Prime Minister and the Minister of Regional Development and Public Works Grozdan Karadzhov. "We have started discussing the country's transport map and acceleration of infrastructure projects", the Minister explained.
 "Regarding the idea of restoring Ruse Airport, we have a unique situation - the Ministry wants it to be done, we have the support of the rest of the Ministers, the Regional Governor and the Mayor work in a synchronized way, we have a carrier interested in being a user and good aviation experts", Minister Sabev said.
Some of the participants in the public discussion arrived to the forum in Ruse with a special demonstration flight from Sofia.
In the framework of the discussions, the experts explained that Ruse Airport was currently an airfield and with a little investment it could become fully functional for public use. The airport could start operating in April, if the State and the Municipality made the necessary investments. The airport could operate in the daytime in good visibility for regional domestic flights.
Regarding the topic of facilitating the traffic of heavy goods vehicles across the Danube bridge near Ruse, the Minister said that a written proposal would be made for actions to speed up the passage of passengers and goods.
Bulgaria will have better and faster transport connections, Nikolay Sabev stated firmly. "I started with BDZ. I plan to ban the company cars of all BDZ managers, who should use only public railway transport. The Danube is also a priority in the Coalition Agreement. We will make every effort to use the waterway for 365 days. Concrete actions for deepening will also begin", the Minister pointed out.
"Ruse will soon come out of the transport isolation. I made a commitment to work for the public, because what I have started, I have also brought to an end. What the results will be depends on how many like-minded people we will have", Nikolay Sabev concluded.
The forum was organized with the support of the Mayor of Ruse Municipality Pencho Milkov. All stakeholders and responsible institutions in the region were invited to participate.