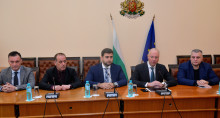 The new texts in the "Mobility Package I" proposed during the Austrian EU Presidency are much more restrictive. This is what the Minister of Transport, Information Technology and Communications Rossen Jeliazkov said during today's meeting with European deputies Andrei Novakov and Petur Krumubashev, as well as representatives of the branch organizations. According to him, these proposals will become a mechanism that will lead to serious shocks for the Bulgarian economy and industry.
The Minister pointed out that the Bulgarian side has repeatedly expressed its concerns and arguments that the proposed texts are unbalanced, discriminatory and diverge from the EU's pre-set goals. As an example, he pointed out that among the new proposals is that not only drivers should return to the operating centers but also the vehicles in 4 weeks. "We understand the arguments that these measures are aimed at social effects in terms of drivers, but we can not understand what is socially in demanding that the vehicle also returns," the minister said. He said that this would lead to an increase in empty rates and would have a negative impact on the environment. Other topics with unclear enforcement, such as driver posting, cabin sleeping, and the introduction of intelligent tachographs that have not yet been produced, have been discussed.
Minister Rossen Jeliazkov announced that the Bulgarian position on the texts of the "Mobility Package I" will be held on the 3 December 2018 Transport, Telecommunications and Energy Council in Brussels. Regardless of the results achieved, during the council we will not stop using all the mechanisms and capabilities in order not to hurt the Bulgarian business.