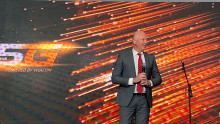 Fifth generation 5G mobile networking services are the basis of smart cities, where technologies are implemented for the benefit of residents, of environmentally friendly and sustainable solutions. This was stated by the Minister of Transport, Information Technology and Communications Rossen Jeliazkov during the presentation of the new technology capabilities.
"5G operates at 100 times the speed, at least 1 million devices per square kilometer can be connected, there is almost no delay in data transmission speed," the minister said during a presentation organized by Vivacom.
 "Therefore, good infrastructure is needed, and for its development, in addition to a good knowledge of technology, it requires courage, which in telecoms is usually associated with assessing the required investment," added Rossen Jeliazkov. According to him, the state and the telecom industry have found the right solution to offer fifth-generation 5G mobile end-user services at affordable prices.
As one of the steps taken by the state to support the deployment of 5G, the minister cited the reduction in the cost of building new networks in the first place by optimizing radio frequency tariffs. "Not because we want to increase telecom profits, but because we want to make the end-user price adequate, not more expensive," he said.
The minister added that another step is to reduce the administrative burden on the deployment of new base station equipment. According to him, the state will work with telecoms, both in terms of control and providing more information that the electromagnetic waves using this technology are not dangerous.
The provision of radio frequency spectrum is a topic that will find its solution, stressed Minister Rossen Jeliazkov. He assured that the 3.6 megahertz band would soon be auctioned. In conclusion, he said the state's efforts are aimed at providing better services, smarter cities and more satisfied users.