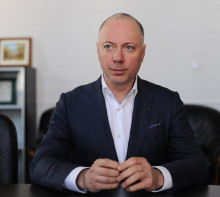 The transport sector is in urgent need of European financial instruments to ensure the speedy recovery of companies affected by the COVID-19 measures. This is stated in a letter sent by the Minister of Transport, Information Technology and Communications Rossen Jeliazkov to the European Commissioner for Transport Adina Valean. The Minister further points out that the aid provided by the Member States is not sufficient and that the support of the European Commission is needed to safeguard the viability of the sector.
"We strongly encourage the European Commission to look at European financial decisions and subsidies for the sector. Avoiding major bankruptcies as well as meeting the short-term needs of companies require rapid joint action and measures at European level. In this context, we fully share the call made by other Member States – to provide the EU with greater protection for its critical assets in transport by promoting transport industrial policy", Rossen Jeliazkov points out in the letter.
In the document, the Minister welcomed the work and guidelines of the European Commission on Green Corridors for heavy goods traffic, which guarantee the free movement of goods. Rosen Zhelyazkov calls on the Commission to adopt a single harmonized approach at European level to introduce temporary derogations to the driving and rest rules for drivers.