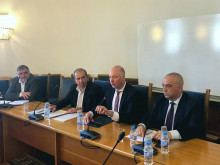 Sofia Airport Concession offers will be opened on 9 May in a public hearing at 9:00. This was announced by the Minister of Transport, Information Technology and Communications Rossen Jeliazkov before the competent parliamentary committee. Participants or their representatives, as well as other persons, may attend the meeting. Under the law, the admitted participants will be announced first. Then, again, in the order of their submission, the participants' bids will be opened. The Commission will read the binding proposals of all admitted participants. At this meeting will be announced the parameters offered by each of the participants - amount of the annual concession fee, amount of investments, development plans of the airport, added the Minister.
He pointed out that the future concessionaire should build a new terminal and runway at the largest airport in Bulgaria until the tenth year of signing the concession contract because the capacity of the existing one is already filled. "The World Bank position was announced yesterday with a congratulatory message to the government, the smooth running of the procedure, and five offers of extremely serious candidates including global airport operators," the minister said.
To journalists, he defined the position of the opposition as clear and political. "I cannot help but admit that the most successful concessions in the airport and port infrastructure were made during the triple coalition's management, and it is obvious that this leads to improvement of service and improvement of infrastructure," the minister said.
In connection with the European Commission's application to the Court of Justice of the European Union that our country has failed to fulfill its obligations to the safety of rail transport in the Community relating to the work of the Air, Water and Rail Accidents Investigation Unit, Minister Zhelyazkov said he had prepared amendments to three laws. These are: the Civil Aviation Act, the Railway Transport Act and the Merchant Shipping Code. It is also proposed to set up a National Air Accident Investigation Board for air, water and rail transport as an independent legal entity to the Council of Ministers, a sub-delegate to the Minister of Transport, Information Technology and Communications. The administrative, technical and financial services of the National Board will be carried out by the administration of the Minister of Transport, Information Technology and Communications. The Prime Minister will appoint the members of the Board. "How administratively the unit will be structured, is irrelevant to the quality of the investigation. Along with the legal changes, we are preparing a search and rescue plan, which will be implemented mainly with the help of the colleagues from the Ministry of Defense and the Ministry of Interior, as well as with the State Enterprise "Air Traffic Management", the Minister said categorically.