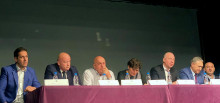 A controlled environment will be created in order to avoid all possible corrupt practices in the practical driving tests. This was stated by Minister of Transport, Information Technology and Communications Rossen Jeliazkov at a working meeting organized by the Bulgarian Drivers' Qualification Association. The event was initiated with regard to the announced measures for improving the Road Transport Agency's activities, which include arranging and conducting of driving tests.
"Our main task is to create a controlled environment within the practical test in order to clearly identify the mistakes that the driver makes. They should be objectively analysed by the examiner and the possibility of subjective assessment should be eliminated. That is why we are considering options for creating and introducing a single integrated information system that will cover the whole process - from the preparation to the exam," announced Minister Rossen Jeliazkov. He was adamant that everything done is in order to improve the system so that the poor preparation would not be concealed by corruption.
Minister Jeliazkov informed the participants that all the measures identified were based on a very serious analysis of the overall work of the Road Transport Agency. He was adamant that subjectivity would not be allowed. He noted that there are identified measures related to the legislation. "All measures that will be reflected in the relevant legislation, at regulations level, will be thoroughly discussed at public consultation with each of you - indirectly and directly" the Minister concluded.
The event was also attended by the chairperson of the State Agency Road Safety Malina Krumova, the Deputy Minister of Transport, Information Technology and Communications Anguel Popov, the Executive Director of the Road Transport Agency Boyko Ranovski and the Chairman of the Management Board of the Bulgarian Association of Victims in Car Accidents Vladimir Todorov.