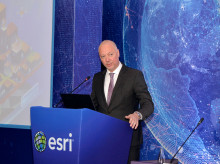 Geographic information systems are a tool for making responsible, important policy decisions at the state and local level. This was stated by the Minister of Transport, Information Technology and Communications Rossen Jeliazkov during the opening of a conference dedicated to the World GIS Day'2019. "I cannot imagine road, rail, maritime and river infrastructure without modern geographical data based applications," he said.
Minister Rossen Jeliazkov recalled that the Ministry of Transport, Information Technology and Communications has completed a major Single Point of Information project, which has collected huge data sets for electronic communications networks and physical infrastructure. This helps not only good planning but also a good economy in managing public resources, he added.
Later today, Minister Jeliazkov will receive the GIS Day Organizer Award - ESRI Bulgaria, for the implementation of the Single Information Point project. Since the launch of the system in June, it has already contained information on 10,848 km of electronic communications networks, 12,090 km of network deployment infrastructure, 194 km of transmission network, 4,216 km of railway network. The single point of information enables many investors to monitor changes and upcoming construction activities and effectively plan and coordinate the construction of physical infrastructure.