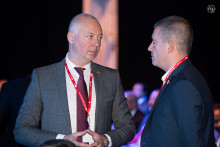 Governments need to create an environment to encourage investments and the deployment of 5G networks and services. This was Minister of Transport, Information Technology and Communications Rossen Jeliazkov's call during a Ministerial Roundtable on the role of government in 5G and high-capacity network deployment. The event took place in Budapest as part of the ITU Telecom World 2019.    
Building 5G connectivity requires huge investments by telecom operators, which can lead to high prices for the services provided, the minister added. In his words, possible intervention from governments is the construction of high capacity communication lines to remote and sparsely populated areas that are not of interest to business. In this way, operators will be able to target their "last mile" efforts, which would reduce the financial burden, said Rossen Jeliazkov.
An important cost element is the value of radio spectrum, Rossen Jeliazkov said during the forum. "Of course, the assignment of spectrum and the fixing of prices for it is a sovereign right of each State, but I believe that this is an area to be considered in the effort to promote the deployment and development of 5G networks and services," he said.
Minister Jeliazkov was explicit that business and citizens should be convinced of the security of the services and communications used, and therefore governments should set up reliable cybersecurity rules.
"An important trend is the improvement of digital skills and education. It is a social element, with no direct impact on 5G business. At the same time, this activity is essential for the digital society," the Bulgarian minister said.