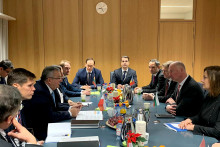 Empty truck pick-up runs in the country of establishment every 4 weeks will result in a 3% increase in harmful emissions due to international freight transport. This was stated by the Minister of Transport, Information Technology and Communications Rossen Jeliazkov in Brussels, at the EU Council meeting, Transport format.
The Minister pointed out that Bulgaria could not show any flexibility regarding the return of the vehicle. In his words, this provision should definitely not be part of the Mobility Package I.
"Transport is a key sector for the Bulgarian economy. The number of heavy goods vehicles registered is 25 800 and their average age is 3 years. Imagine these vehicles crossing Europe and traveling over 2000 kilometers in vain for the desire to impose rules, which are disproportionate and discriminatory to the peripheral Member States," Minister Jeliazkov told his colleagues.
He defined the direct effect of such a provision as a geographical restriction on the provision of this type of transport service in the EU. "It is time to put aside the ideological discussions and think of a realistic approach to the Mobility Package I, which will not have negative and harmful consequences for the proper functioning of the single internal market and for the national economies of the Member States," Rossen Jeliazkov added.
In Brussels, Minister Jeliazkov also held bilateral meetings with the Ministers of Estonia, Luxembourg, Belgium, the Netherlands, Ireland, Portugal and Slovenia, during which Bulgaria's position on the Mobility Package I was strengthened. He briefed his colleagues on the impact study of the Package, commissioned by KPMG on behalf of the Bulgarian transport industry, which showed the consequences of the implementation of the texts so written.