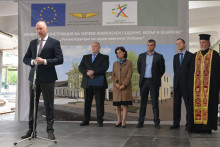 I expect Poduyane railway station to be a part of Bulgaria's cultural and historical heritage after its renovation, said the Minister of Transport, Information Technology and Communications, Rossen Jeliazkov, during the official start of the reconstruction of Poduyane railway station. He recalled that the railway station in Poduyane was one of the first built in Sofia in 1930 and so far, reconstructions have not been made. "The project aims not only to keep the authentic look of the station but also to emphasize it. This is a great challenge for the contractor, who has undertaken to complete the reconstruction within the stipulated period of 15 months," added Jeliazkov.
"Civil society is already extremely demanding in the implementation of all infrastructure projects when public resources are involved. The control of the site will be carried not only by the contracting authority but also by the citizens. This is my requirement to the contractor - to be strict, careful, correct, so that he can be proud of the reconstruction of this site, "Minister Jeliazkov emphasized.
Rossen Jeliazkov informed that it is planned repair works to start at several other stations in the country, including Iskar, Karnobat, Nova Zagora, as well as the construction of entirely new stations in Obelya and Kostenets. "The investments made in recent years in rail infrastructure are real and visible," he said.
In front of journalists, Minister Jeliazkov commented that he expects in the next 10-15 years the railway transport to become a major one, as this is the European tendency for the development of the sector. "Europe, and the whole world, invests in rail infrastructure and transport. It's cheaper, more convenient and environmentally friendly transport, so we need to keep maintaining the infrastructure and modernizing it," Jeliazkov said.
Poduyane railway station is one of the first built in Sofia in 1930 and so far, it has not been reconstructed. The railway station Poduyane is part of the railway Sofia-Plovdiv, which is the busiest in the country. For 2017, the number of arrivals and departing passengers in this direction is 1.4 million. The scope of the project includes full renovation of the reception building, new energy efficient, high tech modern installations - electrical, heating, ventilation, air conditioning, plumbing, as well as design and implementation of structural reinforcement and renovation of building elements. After the reconstruction, the railway station will provide a favorable, safe and accessible environment for the passengers and the staff.
The reconstruction of Poduyane railway complex is co-financed by the European Regional Development Fund (ERDF) through the Operational Program "Transport and Transport Infrastructure" 2014-2020.