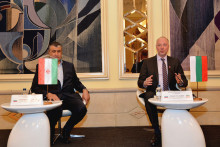 Iran's 80 million-dollar market and the key geographic location of Bulgaria are a starting point for boosting commodity turnover in the interests of the countries, peoples and businesses, stated the Minister of Transport, Information Technologies Rossen Jeliazkov during the Bulgarian-Iranian Business Forum, which was held today. More than 60 Bulgarian and 40 Iranian companies took part in the event.
"The purpose of each business forum is to identify the strengths we can offer each other as partners", said Minister Jeliazkov. He noted that the large number of companies that joined the event was an indication of the intentions of the two countries to encourage trade.
Minister Jeliazkov pointed out to the guests the strengths of Bulgaria in which interaction could be sought - the pharmaceutical and automotive industry, the food and chemical industry and information technology. "We have the fastest growing IT and communications sector in Southeast Europe. Currently, according to some renkings, Bulgaria ranks third in the European Union for ICT sector development", added the Minister.
He expressed his confidence in the positive development of the joint work between the two countries. "I believe that the representatives of the business who attend the forum have been able to perceive the advantages of the Bulgarian market and the Bulgarian economy", said Rossen Jeliazkov.
The Minister of Roads and Urban Development of Islamic Republic of Iran Mohammad Eslami described business talks as beneficial and leading to concrete actions in both countries' policies.