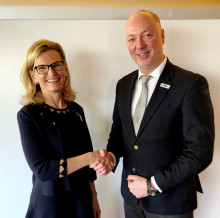 Bulgaria is one of the countries with the highest participation of women in the ICT sector, about 34% of all IT specialists. The Minister of Transport, Information Technology and Communications Rossen Jeliazkov announced this during a meeting today with Doreen Bogdan-Martin, Director of the Telecommunication Development Bureau of the International Telecommunication Union. She is the first woman in the history of the organization, in a senior management post. The talks are part of Minister Jeliazkov's program during the World Summit on Information Society. The event is held in Geneva from 8 to 10 April.
Minister Jeliazkov emphasized the excellent cooperation between Bulgaria and the Telecommunication Development Bureau. As good examples, the Bulgarian Minister pointed out that our country has been one of the initiators of one of the most important activities of the ITU-D – online child protection as well as the initiatives for e-accessibility for blind and visually impaired adults and provision of Internet access in remote settlements with a focus on social services.
Later today, Minister Rossen Jeliazkov will participate in an "Interactive High-Level Policy Session" on the theme "Bridging Digital Divides". He will meet the Secretary-General of the International Telecommunication Union, Houlin Zhao. Minister Jeliazkov's agenda also includes talks with Georgia's Deputy-Minister of Economy and Sustainable Development, Mr. Lasha Mikava, as well as the Iranian Minister of Information and Communications Technology, Mohammad-Javad Azari Jahromi.