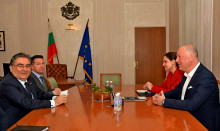 Minister of Transport, Information Technology and Communications Rossen Jeliazkov held a meeting today with the Ambassador of the Republic of Turkey to Bulgaria Dr. Hasan Ulusoy. The meeting was carried out upon the invitation of Minister Jeliazkov and is related to the situation of the delayed crossing of light and heavy vehicles via the Turkish-Bulgarian border.
Ambassador Ulusoy informed Minister Rossen Jeliazkov on the introduction as of April 11, 2019, at the border checkpoints in Turkey, including those with the Republic of Bulgaria, of an integrated system for management and collection of charges and fines related to the use of road infrastructure on the Turkish territory (toll system). As of 11 April 2019, unpaid tolls and fines for electronically identified road traffic violations are being established and collected on leaving the Republic of Turkey. Information on the newly introduced system is provided by our Consulate General in Edirne and announced by the Ministry of Foreign Affairs (https://www.facebook.com/pg/MFABulgaria/posts/?ref=page_internal).
The Turkish ambassador also said that the amount of tolls unpaid and/or fines imposed could be contested in the appropriate manner, but under the Turkish legislation, it is first necessary to be paid the concrete amount which is then viable to appeal. Hasan Ulusoy firmly denied that vehicles were deliberately detained and said that only the lack of payment of the fixed fines and charges would not allow the crossing of the border. In the coming days, the Turkish state will provide detailed information on the procedure for imposing and appealing of charges and fines.
Minister of Transport, Information Technology and Communications Rossen Jeliazkov stressed that relations between Bulgaria and Turkey are developing on a good neighborly basis and we will continue the intensive cooperation in the field of bilateral and multilateral transport operations. Jeliazkov said it is important that the actions of the Turkish border administration be properly understood, as our expectation is that the law enforcement will be objective, equitable for all and that it will not create additional administrative burden. Ambassador Hasan Ulusoy underlined that the new payment system applies to all - for both Turkish and international hauliers operating on the territory of the Republic of Turkey.