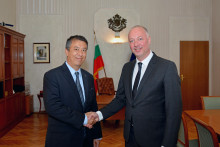 Minister of Transport, Information Technology and Communications Rossen Jeliazkov held a meeting with the Executive Director of the European Aviation Safety Agency, Patrick Ky. The meeting is at the invitation of Minister Jeliazkov and is part of the measures to ensure the safety and protection of the environment in the civil aviation sector in Bulgaria.
Rossen Jeliazkov and Patrick Ky agreed to sign a Conclusion of a Partnership Agreement between EASA and Bulgarian DG CAA on the measures that will be taken in order to improve the operation of our aviation administration. The two parties will also set up a steering committee whose aim will be to monitor the implementation of the measures outlined.
Patrick Ky had talks with the Director General of the Directorate General "Civil Aviation Administration", Stanimir Leshev, on the topical issues of the Directorate's activities.
The European Agency's Director also met with Georgi Peev, BULATSA Director General. They discussed the aviation activities development in Bulgaria, the European initiatives in the field of aviation safety (including the use of unmanned aerial systems) and other topics of mutual interest.
Georgi Peev emphasized that BULATSA always puts the flight safety first and works hard to improve the efficiency of the processes in the context of the increasing traffic in order to provide high quality services to the users of the airspace of our country.