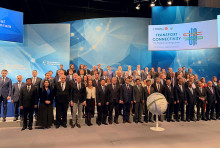 Like-minded countries remain firm, this was Minister Rossen Jeliazkov's comment on the Mobility Package I theme, during the ongoing Leipzig Transport Ministers' Summit.
"Together with our Lithuanian and Latvian colleagues we express our indivertible view of the consequences of Mobility Package I rules implementation within the European Union. We continue our coordinated efforts with the other countries, from the like-minded group, towards changing the texts according to our common national interests," said Minister Jeliazkov.
He emphasized that the European Commissioner for Transport, Violeta Bulc, was urgently asked about the European Commission's role in seeking a solution on the matter as well as the fact that the Commission should play the decisive role of an arbitrator between the Council of the European Union and the European Parliament to overcome the contradictions on the texts, in order to achieve a legislative result that meets the requirements to all Member States. "In my presence, Commissioner Bultc stated that the European Commission will support the drop in the return of the vehicle, the ban on the weekly rest in the cabin, as well as an increase in the number of the operations not covered by the posting," added Jeliazkov.
Within the framework of the International Transport Forum, Minister Rossen Jeliazkov had a meeting with his colleague from the People's Republic of China, Li Xiaopeng on the opportunities for the Europe-Asia transport connections development.
In Leipzig, the Minister held a working meeting with the Director General of the Association of the European Rail Industry (UNIFE), Philippe Citroën. The focus of the talks was the intelligent transport systems implementation in the railway infrastructure in order to ensure transport safety and interoperability of the rail network. They also commented on the financial framework provided by the European funds for the projects' implementation in the Transport sector during the next programming period. Another topic was the infrastructure development in the Western Balkan countries and its integration into the Trans-European Transport Network.