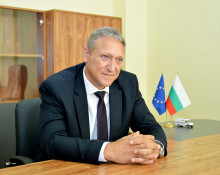 By order of Minister Rossen Jeliazkov we have created an organization to strengthen the control of road transport of passengers and goods in connection with the upcoming holidays and the first school day. This was stated by Executive Director of EA Automobile Administration Boyko Ranowski at a briefing at the Ministry of the Interior for presenting the planned measures by the responsible institutions due to the expected increase of traffic on the roads during the weekends.
"On days 5, 6 and 8 September 2019, the Automobile Administration EA will concentrate teams in the areas of bus stations, railway stations, airports, etc., where the largest traffic flow is expected. There will be on-call teams on September 7, 2019, who will be ready to carry out road control if necessary, "said Boyko Ranowski. He specified that the inspectors of EA "Automobile Administration" will check for violations related to the technical condition of vehicles and compliance with the regulatory requirements when performing public transport of passengers and goods. According to him, the presence of seat belts on buses carrying more than 30 kilometers in one direction will be monitored.
Inspectors from the EA Automobile Administration will be in constant contact with the bodies of the Ministry of Interior and the Road Infrastructure Agency to coordinate the actions as well as to carry out joint control.
Boyko Ranowski also said that companies carrying out transportation of children and students are currently being checked. "In order to increase safety before the start of the new school, at the order of Minister Rossen Jeliazkov, from 1 to 27 September inspections of the buses will be carried out, which will transport children and students. The control will cover the technical state; the appearance; the existence of a valid periodic technical inspection and a certificate of additional inspection of the equipment issued. The ability of drivers - age, experience as a bus driver, as well as all necessary documents for carrying out the transport - are being monitored, "said Boyko Ranowski.