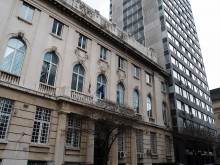 The Minister of Transport, Information Technology and Communications Rossen Jeliazkov presented the measures taken in the transport sector in connection with the state of emergency.
Road transport
"Bulgaria is a corridor between Europe, Asia and the Middle East, so we will ensure a smooth and free flow of goods across our borders. We expect trucks to be grouped and convoyed, as it is done also in other countries. The purpose of transit traffic is to leave the country for the fastest possible time, as well as to unload at the designated places. These are the corridors from the Serbian and Turkish borders, as well as from the Greek and Romanian borders, "Minister Jeliazkov said. He stated that the Bulgarian side is in constant contact with the relevant administrations in Croatia and Serbia. "There are no longer any Bulgarian trucks on the Slovenian-Italian border, they are moving to other alternatives. Croatian authorities are already convoying the trucks. The transit through Serbia is also provided. It is important to guarantee the supply of goods to Bulgaria and the free passage of transit traffic to the Middle East through Turkey.
Air Transport
From 24:00 on Tuesday, restrictions are imposed on flights from both Italy and Spain, as well as from Iran, China and South Korea. Although there are no direct flights between Bulgaria and China and South Korea, restrictions are imposed on all flights that may occur. There are currently no restrictions imposed by the European Aviation Safety Agency, for which the Member States, by virtue of a European regulation, are imposing such restrictions at their discretion, announced Minister Jeliazkov. "We allow our citizens to come home on Monday and Tuesday, with the clear knowledge that all those arriving will be under quarantine. After this period, with Bulgaria Air we have created an organization to provide flights, if necessary, to Italy and Spain, if there are our Bulgarian citizens who want to return home," the Minister said. He urged all Bulgarian citizens who plan to travel by car to European countries not to do so, as they may have serious difficulties in traveling because of the imposed restrictions in some countries.
National internal transport
Although that the travels by train have diminished significantly, in order to allow to travel in an environment of greater sanitary distance, no train reductions are planned at the moment, announced Rossen Jeliazkov.
With regard to travels by bus transport, the Minister said that this week it is foreseen to discuss with carriers and mayors, the options for reducing transport schemes and certain lines.