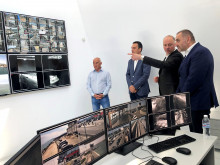 A new technological system will enhance the security and safety of Bulgarian seaports. This was announced by the Minister of Transport, Information Technology and Communications, Rossen Jeliazkov, in the presentation of the results of the project "Design and construction of technical systems for risk prevention and enhancing the security of the territory of seaports / RPSSP /".
"This system is part of a larger system which, in the presence of Prime Minister Boyko Borissov and Chief Prosecutor Sotir Tsatsarov, was announced a few months ago by the Center for Counteracting the Trafficking and Control of the Movement of Goods and Goods at Risk to DGCOC. It will increase the level of security and safety of both Bulgaria and the European Union. It is a prerequisite for increasing revenue collection and increasing prevention capacity and preventing possible risks, "said Minister Rossen Jeliazkov.
The Minister also said that the interoperability and secure connection with the systems of the Ministry of Interior and the Directorate-General for Combating Organized Crime was of great importance for the efficiency of the implemented technology. It is planned to make the necessary connections with other services such as the NRA and the Customs Agency. "Together with Bourgas Municipality, we are discussing the possibilities for connectivity and their video surveillance system. This will lead to expanding opportunities and achieving integration so that individual systems do not work for themselves but serve all state structures, "Rossen Jeliazkov added.
The Minister announced that the project cost is BGN 7 231 917, financed by the European Regional Development Fund through the Operational Program "Transport and Transport Infrastructure". The system is already operational at the port terminals Varna-East, Varna-West and Bourgas-East 1. Two command and control operational centers have been established, which allows continuous protection of the critical infrastructure.
Rossen Jeliazkov recalled that a Ship Management and Vessel Management Information System (VTMIS) was built within the previous Operational Program "Transport". In his words, there is already a connection between the two systems, which shows that no self-investment is being invested in building independent technologies, and everything is within interoperable networks.